Hello! My name is David Dalley. I am a Certified Emotion Code and Body Code Practitioner. As a personal friend of Dr. Bradley Nelson, author of The Emotion Code and Body Code, I've seen miraculous changes and blessings poured out on my wife, my children and myself under the healing hands of Brad himself. Most of my training transpired personally with Brad. As a Certified Emotion Code & Body Code Practitioner I have one simple goal - to MAKE YOU HEALTHY! I strive to find the best possible way to provide you with a HEALTHY, FULL LIFE and FREEDOM from physical and emotional pain, addictions and the blocks/walls that keep you from being ALL YOU WERE MEANT TO BE! WHAT IS THE EMOTION CODE & BODY CODE? Dr. Bradley Nelson describes The Emotion Code as: the simplest, easiest, and fastest method ever devised to find emotional baggage (using muscle testing) and release it, either from yourself or from someone else. Our emotional baggage consists of actual energies, the energies of intense emotional events that we've experienced that are still stuck in our physical bodies. These energies distort the normal energy field of the body, creating pain, malfunction, all manner of disease, and even cancer. In addition, these energies (trapped emotions) are the driving force behind PTSD, depression, anxiety, phobias and all manner of mental illnesses. The Emotion Code is one small part of The Body Code that works on the 6 Key Areas of Imbalance: ENERGIES, CIRCUITS & SYSTEMS, TOXINS, PATHOGENS, MISALIGNMENTS AND NUTRITION & LIFESTYLE. I truly believe I can help you find the freedom, comfort and peace you are looking for, and deserve, and move on to a more abundant life!
David Dalley
Certified Emotion Code and Body Code Practitioner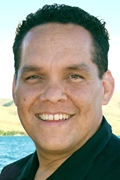 MY TRAINING For most of my training as an Emotion Code/Body Code Practitioner I was personally taught by Dr. Bradley Nelson, the creator of the Emotion Code/Body Code. My experiences and time with him has brought profound insight and change to my own personal life, because I started as a client. REMOTE TELEPHONE SESSIONS The majority of the work I do is over the phone, so you can sit in the comfort of your home or office.
Healers Online Health Center
435-915-6891
Monday

Tuesday

Wednesday

Thursday

Friday

2:30pm - 6:00pm

2:30pm - 6:00pm

2:30pm - 6:00pm

2:30pm - 6:00pm

2:30pm - 6:00pm